Many brewers equate craft beer to a community unlike other consumption-based industries, where collaboration and camaraderie are welcome and abundant.
Consider the just-released Get Spruced Up from Angry Fish Brewing  Co. in Lexington, which teamed with Juneau, Alaska's Barnaby Brewing Co., for the pre-prohibition-style porter. The beer features Alaskan spruce tips picked in the spring, intended to lend a raspberry-like flavor to contradict the expected piney flavor.
"Our style is to always push the envelope and do things that aren't necessarily the run of the mill," said Angry Fish co-owner and brewer Kenny Hodge. "We always like experimenting with cool ingredients."
The beer features hints of chocolate and raspberry, with a light sweetness that fades to dryness upon drinking, Hodge detailed. The ABV clocks in at roughly 5.8 percent.
While the connection between the two craft brewers may seem distant, there's a clear connection — Barnaby Brewing Co.'s eponymous owner Matt Barnaby is from Summerville and graduated from Clemson University.
The two owners met at the Great American Beer Festival in 2018 and struck up a friendship. Incidentally, the beer that Barnaby was pouring at the festival featured spruce tips, Hodge reminisced.
Hodge had sourced spruce tips from the Pacific Northwest in the past, but wanted to try and use Alaskan-grown varieties and, in 2019, he requested Barnaby send him some. A low harvest meant there wasn't enough to spare, until this year when Barnaby took a trip home and brought along with him handpicked spruce tips for Angry Fish to try.
The two got together for an early morning brew session and concocted the beer.
Barnaby detailed that the spruce tips are — unsurprisingly — commonplace in southeast Alaskan breweries. The aroma and flavor shifts depending on the season picked — expected pine-like aroma present at some times, as well as other variations, like the raspberry lean incorporated into Get Spruced Up.
"We sort of treat it like we would hops, it gets added into the boil," Barnaby said.
Angry Fish released the beer on Feb. 13 and Hodge didn't expect it to last long.
"As good as it is it won't probably last a week or so … it's pretty good," Hodge boasted.
The full guide to Columbia's spring beer releases below. Tasting notes provided the breweries. Is your favorite spot missing? We'll be making updates as we receive them, so check back at free-times.com.
Angry Fish Brewing Co.
106 Fabrister Lane C, Lexington. 803.520.7470. angryfishbrewingco.com.
Get Spruced Up (5.6 percent ABV) — See above.
Spence Island Pilsner (4.6 percent ABV) — Pilsner brewed with Pilsen malt grown and malted here is South Carolina. Hints of citrus and mild spiciness. Crisp and clean on the finish.
Lost in the Lake Imperial Red (11.9 percent ABV) — Hodge described this one as "big, malty and slightly boozy." The beer features caramel and toffee that's balanced by hoppy bitterness. A barrel-aged version will also be available, which further adds vanilla, cinnamon and caramel flavors.
Black's Bridge Oatmeal Porter (5.9 percent ABV) — Light-medium bodied porter that finishes with a hint of chocolate and nuttiness.
Harbor Side Hazy IPA (6.5 percent ABV) — Bright citrus, mango, pineapple, passion fruit and a hint of mint and pine and tropical fruit dominate the palate with little to no bitterness and a nose of huge citrus, pineapple and mango.
Murray Point Chocolate Peanut Butter Porter (no ABV given) — This porter pairs chocolate and peanut butter in a light-bodied pour.
Dreher Shoals Dry Irish Stout (5.8 percent ABV) — A traditional Irish stout made with a blend of roasted malts.
Tight Lines Irish Red (5.4 percent ABV) —  A caramel-sweet beer that has a "slightly biscuity taste" that quickly dries.
The full Angry Fish lineup is available online.
Bierkeller Columbia
Crowlers sold at Swamp Cabbage Brewing, 921 Brookwood Dr. weekly, check Facebook for availability and for pop-up locations. facebook.com/bierkellercolumbia 
Bockbier — A pale, spring bockbier. It's malty, sweet and features a bit of noticeable alcohol. Bierkeller's biggest beer with its high 7 percent ABV. The body is actually fairly heavy, despite its pale color. 
Fastenbier — A dark Franconian lager brewed specially for the Lenten season.
Kölumbianer Kölsch — Some — including Bierkeller brewer Scott Burgess — will point out that this isn't a proper kölsch, as it's not made in Cologne. Burgess does his best to replicate the versions from there, though, with this lagered ale. It's light in body and slightly fruity, with notes of pear and a little white wine. 
12° Czech pale lager — The 12th beer in Bierkeller's portfolio, it's made in the mold of a popular Czech light lager. Offering a clear, gold color with a maltiness that is balanced by a generous dose of spicy Czech saaz hops.
Bierkeller will also be back to its roving ways with a series of pop-ups from March to June.
Columbia Craft Brewing Company
520 Greene St., 803.799.6027. columbiacraft.com.
With Columbia Craft's expansions nearing completion, co-owner Andrew Strauss detailed they'll have three new sours (one a restaurant-specific brew), a double West Coast IPA, and, upon expansion completion, an expanded tap offering with "local favorites."
Cojito Sour — A taproom offering, it features cinnamon, coconut and lactose.
Holly Spice Sour Ale — Another taproom offering, this features cara cara orange puree, cranberry, nutmeg, cloves, cinnamon, allspice and lactose.
Restaurant limited release sour — This restaurant-only sour is launching in March. It features blueberry, pineapple and marshmallows.
Double West Coast IPA — Continuing with the brewery's recent exploration into the past fad of the hop-centric West Coast IPAs, they hope to debut a double West Coast IPA, meaning a higher ABV and even more hoppiness.
Hazelwood Brewing Company
711 E Main St., 803.785.3947. hazelwoodbeerco.com.
Matt Rodgers' Lexington brewery's spring lineup has familiar favorites and several exciting specials.
Unfiltered Pilsner — The brewery's top seller, Rodgers described the bready and balanced pils as "super clean and smooth."
Neuroscience Hazy IPA — Neuroscience is double dry-hopped with Strata, Citra and Idaho 7. It's juicy and thick, due to a heavy amount of oats.
Nudie Boots — A double strawberry, tangerine, apricot and peach sour. Bolstered by vanilla beans and milk sugar.
Forkin Pancakes — Don't drink it for breakfast. Or do, it's your life. This sour features a heavy amount of dark maple syrup, vanilla beans and a trifecta of berries: blackberries, blueberries and raspberries.
Hazelwood will do a can release for both of the sours with presale available. Date to be determined.
Hunter Gatherer Brewery and Alehouse
900 Main St. (temporarily closed), 803.748.0540. 1402 Jim Hamilton Blvd. (Hangar location), 803.764.1237. huntergathererbrewery.com.
Kevin Varner's long running craft brewery is planning to begin debuting several seasonal-based releases on a regular basis. Finer details are TBD, but he shared what he knew so far.
Seasonal lager — Varner plans to revisit a cherry lager he debuted in the winter, but with a stronger focus on the cherry and a lighter color. Early April release.
Seasonal IPA — Details still being finalized, but Varner is planning on a citrus zest IPA with a late March release.
Seasonal Kettle Sour — Varner plans for a blackberry sour that he intends to straddle the line between tart and fruity.
Seasonal Nearly Wild — Varner plans to do a sour red in the style of a famous Belgian brewery Rodenbach, known for its aged, wood-fermented beer.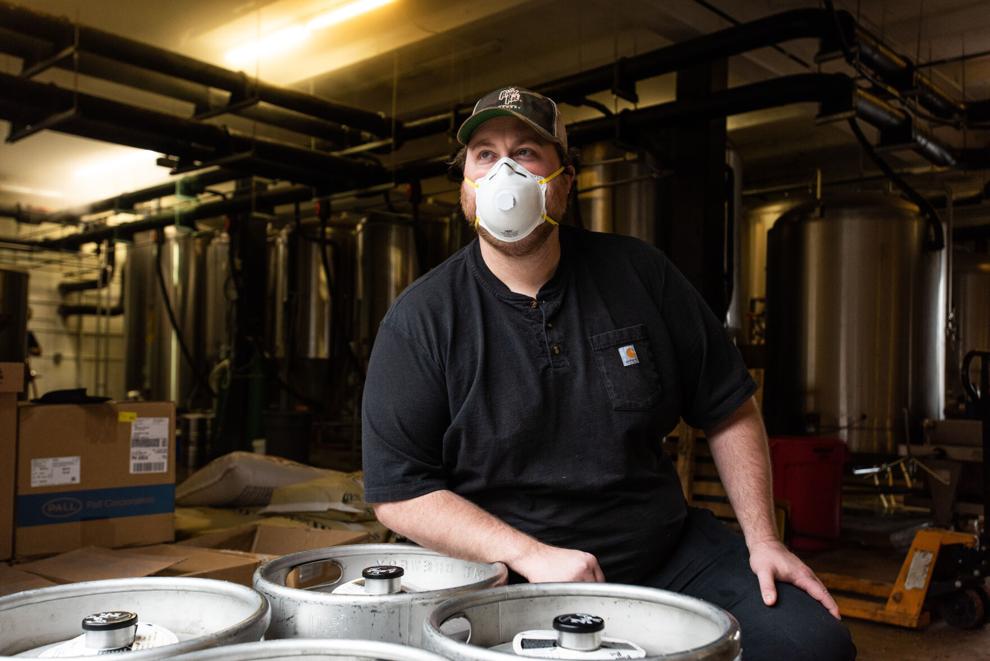 River Rat Brewery
1231 Shop Road. 803.724.5712. riverratbrewery.com.
Columbia's longest-running distribution brewery has a number of releases in the spring.
Twisted Lemon Wheat — An American hefeweizen, brewmaster Drew Walker described it as a "very refreshing wheat beer with just a hint of lemon."
Blueberry Gose — As goses are, this is brewed with salt and it's slightly sour. Walker augmented that with raspberries and blueberries, to bring in freshness.
Bohemian Pilsner — An "aggressively" hopped beer featuring perle and saaz hops.
Helles Bock — It "tastes like beer," Walker aptly described. It features a light body and a straw-like color. Drinks easier than its ABV would lead you to believe.
Steel Hands Brewing
2350 Foreman Street, Cayce., 803.708.9864. steelhandsbrewing.com.
Irmo's ever-popular brewery is launching its Juicy Hazy IPA as a year-round can offering in early March. That debuted in December and was described then as "pungent and juicy, with aromas of peach, tangerine and lemon." Additionally, the brewery plans to launch monthly or semimonthly taproom offerings, but didn't yet have further details.